la Galerie d'Arts
http://galerie.d.arts.free.fr/
Marie Le François (Painters)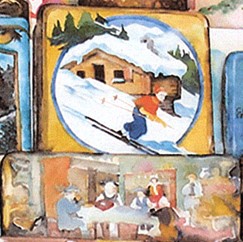 Marie LE FRANCOIS (Davenne)

Born in Saint-Quentin in Aine
Studies graphic art at the Met in Paris Penninghen
Lives and works in Lyon last 15 years - Numerous exhibitions, First price

Marie Le François demonstrated an exceptional grasp of the design
"A nice trait" according to Penninghen Met.

She creates large paintings, allliant novel way of watercolor and acrylic.

Her creations give a dimension to the unusual items in both senses of the word, or by changes in scale bold, either by the strange resonance and sometimes she gives them spiritual.
Her painting is of a classically trained artist in which we find resonances of Pop art that breathes poetry. She sees often beautiful where others do not see it, and we watch with talent.
Marie Le François also does paintings on command,
then you have the choice of subject and format.

To contact,
click here