la Galerie d'Arts
http://galerie.d.arts.free.fr/
Clerc-Renaud F (Sculpters)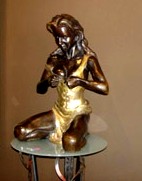 Frédéric Clerc-Renaud
"Self-taught sculptor, Frédéric Clerc-Renaud s'attache à représenter le corps dans ce qu'il a de plus sublime ..."


Sculptor, born in 1961, self-taught artist.
The very first idea of Frederic Clerc-Renaud was to study Fine-Arts. Eventually, it was law-studies and two master degrees .
And then one day, round the corner of an alley, just like Alice in wonderland, pushing opened the door of a gallery, he entered in the world of art from which he never came back. It was in year 2000.
Irony of destiny, overnight he had left the "right" track for the soft curves of the creatures he creates on the shapes of his imagination. Young ladies idealized, men, couples, freezed in
serene attitudes. Each work is in fact a pretext for a new portrait. Pure pleasure.
To contact,
click here